WELCOME TO THE
CRAZY HOUND HOUSE
The Crazy Hound House can be found in the beautiful Overberg, Western Cape. The Sighthounds (and few mutts) that live here are all rescues, except for Boerwindhond boy Dapper, who was a gift from a friend.
As far as I can remember, I have had a love for animals, in particular dogs and cats. Growing up, we always had dogs and the occasional cat. As an adult, I became a crazy dog lady once I discovered fostering! The problem was that I became too attached to my foster dogs and so a number of them never left. Fortunately the ones that did leave found the most amazing homes.

HOW IT ALL STARTED
I have always loved Greyhounds, and once I moved out into the country and had plenty of space I adopted my first Greyhound, five month old Opal. So began a love affair for a breed of dog that I find extremely special. With the addition of more hounds, I soon became known as the Crazy Hound Lady!
THE GANG
DAPPER
Dapper is a handsome, mostly black with a few patches of white, pure breed Boerwindhond. He was given to me by a friend when he was five months old, and is now just over two years.  He is very intelligent and incredibly tall, it often feels as if there is a small horse walking around the Crazy Hound House.
LINKA
Linka is a beautiful four-year-old pure breed brindle Boerwindhond. She came to live at the Crazy Hound House when I was asked if I would take her in because she was being bullied by the pack with whom she lived, and this was causing her to be reserved and shy. Her owner wanted her to lead a more normal and relaxed life.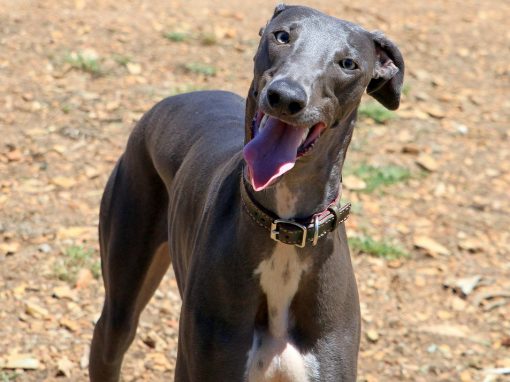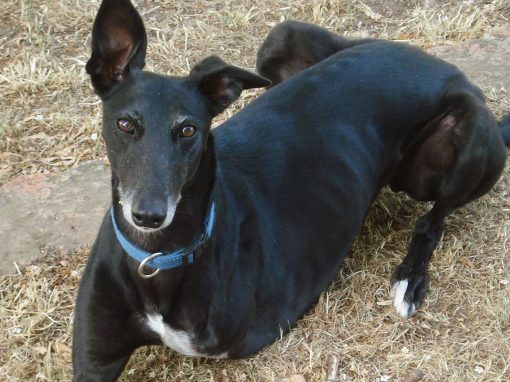 We are a very happy and lively bunch in the Crazy Hound House, and we've got so many stories to share.
We're also on
OUR TREATS: 100% NATURAL RECIPES
I have always been interested in baking, and for a few years ran a successful novelty cake business from home.  I started researching dog treats because friends kept asking me to bake them.  With a large part of my life revolving around rescue dogs, it definitely made sense to start baking treats.
Then, in June 2012, I held a birthday party for my boy Flash, so much fun was had by the dogs and humans alike, that I decided to focus more on dog cakes and treats.
Once we moved out into the country, I stopped baking novelty cakes completely and now only bake dog treats.
Our recipe book is the culmination of lots of work, testing and tasting, rehashing recipes, re-testing and tasting (not only by the Crazy Hound House taste testers, but also by their mom).  We also have a number of friends (canine and human) who are avid taste testers.
The book contains not only a collection of 100% natural recipes, but also a little information on the wonderful rescue hounds (and mutts) who live in the Crazy Hound House, as well as some of their friends.
LEATHER WORK
After spending far too much money on various types of collars for my hounds, I discovered that the leather ones are the most cost-effective because they last the longest. I bought a book on leather work to see if I would be able to manage working with leather and thereby make my own dog collars. I fell in love with the craft, and enjoyed creating personal designs for my hounds. Crazy Hound House collars were then added to the repertoire.
BOERWINDHOND FACTS
& RESCUE HOUNDS
The Boerwindhond, indigenous to South Africa, was originally bred out of the show Greyhound with, no doubt, some racing Greyhound for extra speed, Saluki for endurance and Borzoi for height and stamina. Read more.
Onyx and Amber have settled into the Crazy Hound House very well. Amber continues to be wild when she plays, and helped along by Dapper, Blanca and Wilee, has been up to plenty of mischief.
FUN ON INSTAGRAM
This error message is only visible to WordPress admins
Error: No connected account.
Please go to the Instagram Feed settings page to connect an account.
"Rescued is our favourite breed"
CONTACT
"I can do everything through Him who gives me strength."